Dear VietHope friends,
As VietHope is approaching our 15th year in 2017, on behalf of our staff, I would like to thank you all for your invaluable contributions, encouragement and support! With this spirit, I would like to invite you to join us celebrating our student recipients' success stories that I will share in this letter. I will also have updates on our programs, and our anniversary-related events. I would again encourage you to follow our Facebook account for more detailed and frequently updated news about VietHope's activities.
VietHope scholarship recipients' graduation!
Big congratulations to the following three University Scholarship Program (USP) students, who all attended the Youth Development Program (YDP), on their graduation and pursuit of education!
Phan Chi Dung, YDP 2008, received his Masters degree on Principles and Methods in Mathematics Education. He plans to pursue a PhD degree in Maths. Inspired by his experience at YDP, Dung founded StudentHope www.studenthope.com, with the mission of providing training skills and volunteer projects for his beloved Mekong Delta.

Le Minh Huy, YDP 2009, finished his Masters degree in Mathematics Education in Can Tho. Huy was awarded a full PhD scholarship in Mathematics in Industry and Commerce. He's going to Germany this August for another 3 year journey. Huy is also an active member of StudentHope.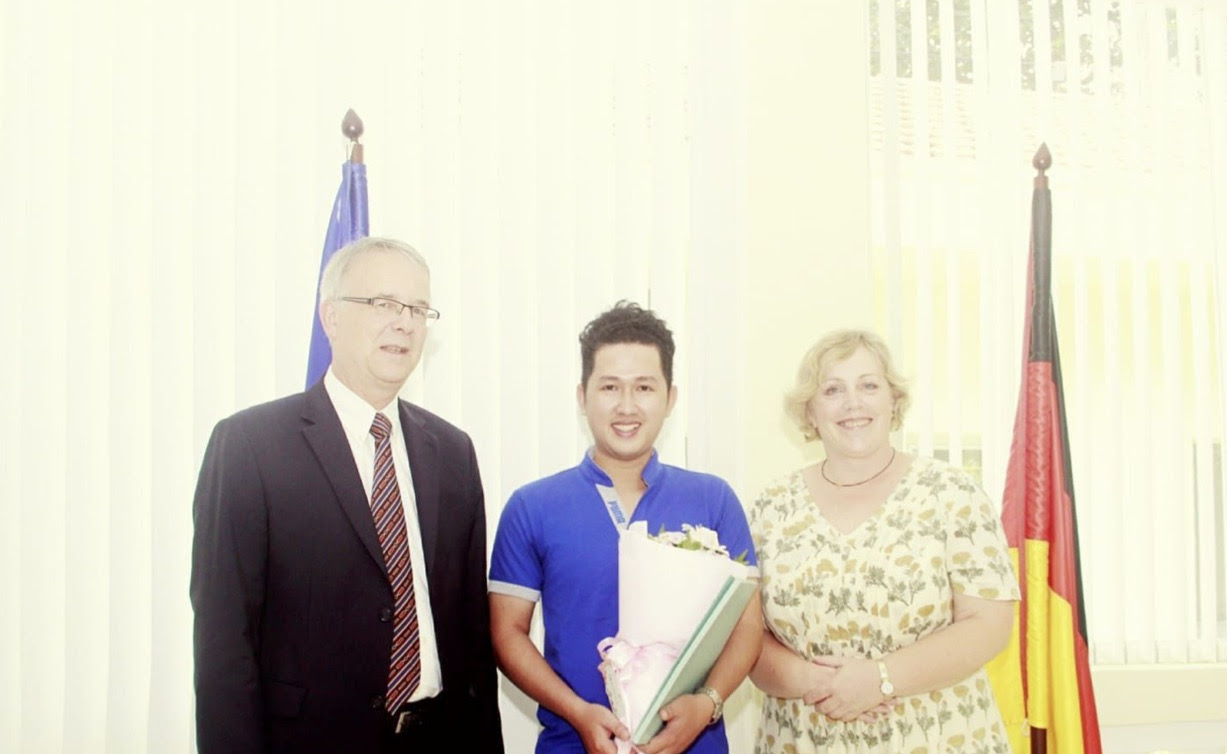 Nguyen Duc Toan, YDP 2015, just graduated from the University of Economics HCMC with a BA in Human Resource Management. Duc Toan is currently our team leader for VietHope's oldest scholarship program, USP (Duc Toan himself was a University scholarship recipient in 2014). Duc Toan has spearheaded many initiatives to reform the program and attract more high achieving students. Duc Toan is working for a game company, enjoying playing in his guitar club and taking volunteer trips to rural areas.

Appreciation and Celebration!
We are hosting our annual appreciation party for donors in the San Francisco bay area on Sep 9 in Saratoga, CA. This year's theme is Youth, with a special focus on VietHope's new Youth Workshop Program. Guests will have a chance to converse directly with our Vietnam team's dedicated, resourceful, and fun-loving volunteers, who do most of the field-work, meeting and interviewing students at their homes and schools. RSVP by email [email protected], [email protected].
In Saigon, we are hosting VietHope's 15th anniversary on Sep 30, for students, volunteers and sponsors, who have been with us from the beginning. RSVP by email at [email protected]
Miscellaneous
VietHope held our Youth Workshop Program's quarterly sessions on June 4, on study abroad. The session featured 5 speakers, who shared heartwarming stories of overcoming challenges to study abroad, and advice on how to apply study abroad scholarships.
VietHope was honored by HCMc Union of Friendship Organizations (HUFO) for our active contributions and effective implementation of humanitarian programs in HCMC from 2014 to 2016 at HUFO's annual meetings on April 27.
That's it! We hope that you enjoy hearing in detail about these programs. Please continue your generous support to build a stronger VietHope so we can serve many more deserving students in Vietnam. Online donations for students can be made at our website. If you prefer airmail, you can mail your checks to:
340 S Lemon Ave #9666
Walnut, CA 91789, USA.
Sincerely,
VietHope Executive Committee
Quang Duong, President
Dat Le, Vice President
Hien Vuong, Vice President
Viet-Anh Tran, Vice President